Package E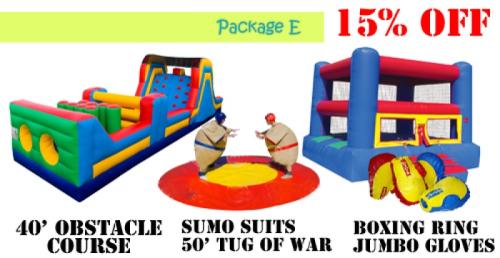 You receive 15% OFF the regular price of rental. Package E is perfect for larger sporting events, carnivals, or fundraisers. With this package you get our 40' Obstacle Course with dual slide at the end, Sumo Suits, 13x13 Boxing Ring bounce house with Jumbo Boxing Gloves, and a 50' Tug of War rope. Order applies to our general delivery areas for an 8 hour period. Call us at 714-465-5558 for more information. Cannot be combined with other coupon codes or offers.
This special includes:
z_INACTIVE_Jumbo Boxing Gloves
40' Obstacle Course
Boxing Ring
Sumo Suits
50' Tug of War
Pricing & Availability
Please select a date, time & location to the left to get a real-time quote!!